AIOU University is famous for education-providing institutions across the country. Allama Iqbal Open University Islamabad has launched an AIOU Aaghi LMS Portal to share the latest news about assignments, workshops, and other information for all private and regular students.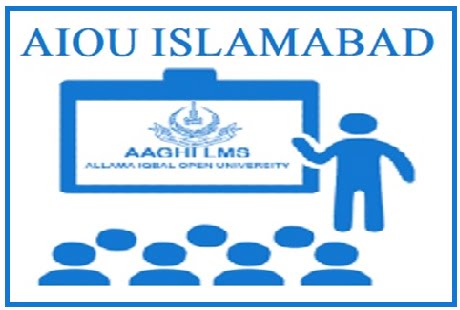 The University is directing all the students to come to the AIOU Aaghi LMS Portal online to attend the workshop by clicking on the below web portal link. When you click on the web portal link you will see a face-to-face online workshop + Assignments submission option click on it.
How to Join AIOU Aaghi LMS Portal for Workshop
AIOU LMS Login is an online shareable web address where all lectures and information are shared on the Aaghi.Aiou.edu.pk Login. Click on this link https://aaghi.aiou.edu.pk/ to join the AIOU Aaghi LMS Portal online. Remember the institution shares a workshop link separately on a daily basis.
How to Join AIOU Aaghi LMS Portal for Assignments
The students of Allama Iqbal Open University are also directed to submit their assignments on the following web address link. To join and participate in the Aiou online workshop login follow these steps:-
After you get AIOU Admission, and then to attend the upcoming AIOU Workshop for spring semester 2023 first of all download the Microsoft Team Application from the Play Store.
Use the same username and passcode for the "Microsoft Team App" that was used for the AIOU Aaghi LMS Portal that you got after paying AIOU fee.
After logging in go to the workshop schedule to join the Aiou online workshop Aaghi Lms.
The institution also provides an online link for international students to join the workshop online. For more detail go to the support center to learn the method for how to attend the workshop at Aaghi LMS Portal AIOU. Also, get information about the schedule and details about the LMS User Manual for students and teachers. Share the following sharable web address to all the students and help them to appear in an online workshop.
The Allama Iqbal Open University (AIOU) AAGHI LMS portal is a cutting-edge platform designed to empower students on their educational journey. Whether you're seeking to access course materials, submit assignments, or engage with instructors and peers, the AIOU AAGHI LMS portal provides you with all the tools you need.
AIOU LMS Portal Overview
The AIOU LMS portal, often referred to as AAGHI LMS serves as a central hub for students enrolled at AIOU. Here, you should freely log in to your personal ID/Account and access a wealth of resources tailored to your courses. It's your virtual classroom, accessible anytime, anywhere.
AIOU LMS Login: Your Key to Academic Resources
To unlock the full potential of the AIOU AAGHI LMS portal, simply log in using your credentials. Once you try logging in, you'll find course materials, lecture videos, assignments, and discussion forums at your fingertips. This user-friendly interface enhances your learning experience and keeps you connected with your academic community.
AIOU AAGHI LMS: A Student-Centric Approach
AIOU's commitment to student success is reflected in the AAGHI LMS portal. It streamlines access to course content, making learning more convenient. Whether you're a new student or a returning one, the AIOU AAGHI LMS ensures you have the support you need throughout your academic journey.
In conclusion, the AIOU AAGHI LMS portal is a powerful educational tool that empowers AIOU students to excel in their studies. Convenient access through the AIOU LMS login ensures that you can make the most of the academic resources available to you. Stay connected, stay engaged, and make the most of your education with AIOU AAGHI LMS.
The AIOU CMS portal is a vital resource for students at Allama Iqbal Open University, and the AAGHI LMS portal holds the key to accessing your results and tutor login information.
AIOU CMS Portal for Comprehensive Academic Support
The AIOU CMS portal is designed to provide students with a seamless online learning experience. Here, you can access course materials, submit assignments, and engage with educational content. It serves as the central hub for all your academic needs.
AAGHI LMS Portal Results: Accessing Your Academic Progress
For checking your results, the AAGHI LMS portal offers a convenient solution. By logging in to aaghi.aiou.edu.pk, you can easily access your academic progress and results. It's your one-stop destination for staying updated on your performance.
See more: AIOU datasheet 
AAGHI.aiou.edu.pk Login Tutor and Password Retrieval
If you need to log in to AAGHI LMS and forgot your password, simply visit http //aaghi.aiou.edu.pk login password retrieval page. It ensures that you can regain access to your account with ease. Additionally, for tutor-related information, the AAGHI.aiou.edu.pk login tutor offers the necessary tools for effective communication with your tutors.
In conclusion, the CMS portal AIOU and AAGHI LMS portal offer essential resources for students, including access to results, tutor login, and password retrieval. These portals are designed to enhance your educational journey at Allama Iqbal Open University. Open the below web to see the interface of AIOU Aaghi LMS Portal for CMS login for Tutor and candidates.
AIOU Aaghi LMS Portal Latest News