Most of us use MICROSOFT Word for official use. Sometimes we have to write Urdu in our documents and it becomes a headache for us. We try to copy Urdu from Inpage but can't. Now you don't need to worry. Today I am going to describe the method to write MS Word Urdu Software Free Download and other programs on your computer. Learn the method of How to write Urdu in Microsoft Word and anywhere on the Computer.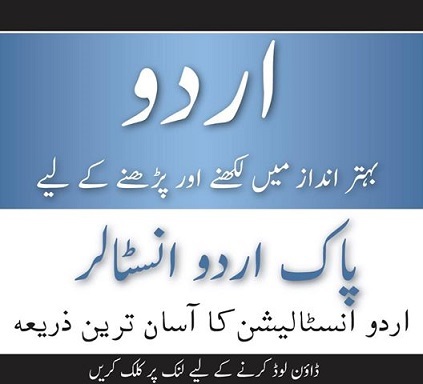 It is not necessary to have an Urdu keyboard (hardware) to type Urdu in MICROSOFT Word or anywhere on your computer.  Windows operating system already holds the simple ability to read and type Urdu. So keep reading to learn the free tips for MS Word Urdu Software free download for Windows 10 and Windows 7 also.
But, so as to promote the feature of reading then you need to install "Urdu fonts" and for typing "Urdu keyboard layout" is necessary to be installed on your computer system. MS Word Urdu writing tips for free. Here learn the complete process to write Urdu in MS Office just MS Word Urdu Software Free Download from this web link.
MS Word Urdu Software Free Download
This method answers the problem for Windows Vista and Windows 7, but an extra charge is essential to be complete for Windows XP, It is necessary to activate Urdu support for this Operating system, and to do this you'll need Windows XP's CD. "Pak Urdu installer" is developed to make all the steps (Activate Urdu support, Urdu fonts, and Urdu keyboard layout installation) much easier. These are the tips on MS Word Urdu Software Free Download Remember below or open it https://rainosoft.blogspot.com/2013/08/free-download-pak-urdu-installer.html.
Remember these features will provide an Urdu keyboard for Windows 10 Free Download Filehippo or Playstore that is totally free of cost.
Everyone has wish and need to type Urdu in MS Word, Excel and Powerpoint and on this stage the users face many troubles but right now it is so easy to right Urdu in MS Office while installing the ms word urdu font download free of cost.
"Pak Urdu Installer" completes all steps mechanically without Windows CD. It
1-    Starts Urdu language support
2-    Install the Urdu keyboard layout
3-    Install essential Urdu Fonts.
It makes you able to type and read Urdu on a computer and Internet easily in Nastaleeq font. One of the main features of the Pak Urdu installer is that it supports all 32-Bit and 64-Bit versions of Windows operating systems.
If the Pak Urdu installer is installed on your computer then you can type Urdu anywhere like Microsoft Word, MICROSOFT Excel, Powerpoint, Adobe Photoshop, search engines, Yahoo, Facebook, or anywhere on your computer or on the internet. How to write Urdu in Microsoft Word, Excel, and PowerPoint, etc Just click on the below web link for Ms word Urdu Software Free download for Windows 7.
Language Bar will be exposed on the Taskbar after installation and restarting your computer, as shown in the images below.
Windows XP
Windows Vista
Windows 7
Window 10
If you are writing English and want to write Urdu on Computer MS Word Urdu Software Free Download from the below link to write the Urd in MS Word just press (Alt + Shift). It will change the language to Urdu and vice versa. When you click on this link you will see playstore link for Urdu Typing software for PC free Download right now.
Click Here for MS Word Urdu Software Free Download