Here you find out the complete list comprising Government Holidays, directorial holidays, Bank holidays, and Non-working Public Holidays 2023 In Pakistan Notification Schedule Public Holidays in Pakistan 2023 PDF download. Here are complete details are attached herewith in which you can see and notify the National Holidays 2023 in Pakistan, Hindu holidays, observance, optional holidays, and so on for the year 2023. on the day of the Bank Holidays 2023, all the working departments and sectors remain off and close down.
All these Public Holidays 2023 in Pakistan are celebrated for specific purposes like in remembrance of Independence Day, Kashmir Solidarity Day, Christmas Day, Defense Day, the Birthday of Holy Prophet Hazrat Muhammad Peace Be Upon Him, the Birthday of Baba Guru Nanak Dev jee, labor day, new year day and so on.
Pakistan Public Holidays 2023 In Pakistan Dates & Day
The govt of Pakistan announces bank holidays, easter، federal, school, Christmas Holidays 2023, weekends, etc. So, I mean to say here that all the above-mentioned holidays are being celebrated for the fulfillment and remembrance of specific motives and objectives every year from all over the world also in Pakistan.
This article contains the whole list of official Public Holidays 2023 National Leaves Notifications announced by the government. Holidays are celebrated worldwide with full devotion and contagiousness. Holidays may be observed on the official calendar of Pakistan. it has come to know that since 1996, Friday has been a half-working day and Sunday is the weekly holiday of the entire country of Pakistan.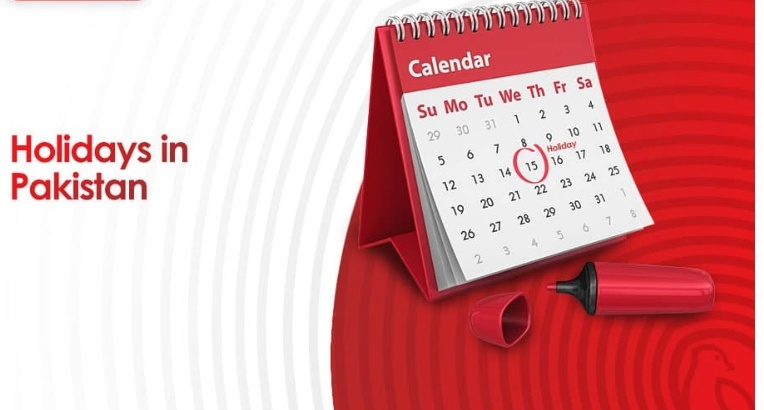 We diligently find out continuously updated our Public Holidays 2023 in Pakistan dates and information from so many references. If you find any mistake, please so guys must let us know for correction.
Let's See the Schedule of Public Holidays 2023 in Pakistan
Holidays and Observances in Pakistan 
Sr #
Holiday
Date
1
Kashmir Day
Sunday, February 5, 2023
2
Pakistan Day
Thursday, March 23, 2023
3
Easter Monday *
Monday, April 10, 2023
4
Eid ul-Fitr Public Holidays 2023
Saturday, April 22, 2023
5
Eid ul-Fitr Holiday
Sunday, April 23, 2023
6
Eid ul-Fitr Holiday
Monday, April 24, 2023
7
Labour Day
Monday, May 1, 2023
8
Eid ul-Azha
Thursday, June 29, 2023
9
Eid ul-Azha Holiday
Friday, June 30, 2023
10
Eid ul-Azha Holiday
Saturday, July 1, 2023
11
Ashura Public Holidays 2023
Thursday, July 27, 2023
12
Friday, July 28, 2023
13
Independence Day
Monday, August 14, 2023
14
Milad un-Nabi
Thursday, September 28, 2023
15
Iqbal Day Public Holidays 2023
Thursday, November 9, 2023
16
Christmas Day *
Monday, December 25, 2023
17
Quaid-e-Azam Day
Monday, December 25, 2023
18
Day after Christmas
Tuesday, December 26, 2023
Details of Public Holidays in Pakistan 2023
When is Kashmir Day
When is Pakistan Day
Labour Day
When is Ed-ul-Fitr
When is Ed-ul-Azha
Ashura 9 Moharram 1444A.H
10th Moharram 1444A.H
Independence Day
When is 12 Rabi ul Awal 
Quaid-e-Azam Day
Christmas Day History
Day After Christmas
National Public Holidays 2023 in Pakistan Holidays and Observances
Please check the details of National Public Holidays 2023 near Lahore and Nankana Sahib and throughout Pakistan can anticipate a series of National Public Holidays that hold significant importance. You can conveniently access the complete list of these holidays in a National Public Holidays 2023 PDF.
These holidays, as per the Federal Government Holiday Notification 2023, have been officially announced, and they are applicable across the nation. It's important to stay informed about the National Public Holidays 2023 Pakistan, as it affects both the public and private sectors.
For those dwelling in Karachi, knowing the National Public Holidays 2023 Karachi explicitly is fundamental. Whether you're arranging a vacation, a unique occasion, or simply some quality time with friends and family, understanding the occasion timetable can be very helpful. Monitor these dates to take advantage of your time and make essential minutes consistently.
Stay ahead of the game with the Tomorrow Holiday Notification 2023, ensuring you never miss out on important Public Holidays in Pakistan for the year 2023. This comprehensive notification covers all the Gazetted Holidays in Pakistan 2023, making it your go-to resource for planning your year ahead.
From national celebrations to religious observances, the Pakistan Holidays 2023 offer a rich tapestry of cultural events, and this notification has it all. It's your key to staying updated with all the Public Holidays in Pakistan 2023, allowing you to plan your work, travel, and personal activities effectively.
Whether you're a business owner wanting to manage your workforce efficiently or an individual looking to organize your vacations, this Tomorrow Holiday Notification 2023 is an invaluable tool. You won't need to worry about missing out on essential dates, as it's designed to keep you informed and prepared.
So, make the most of your year by staying in the know with the latest information on Public Holidays in Pakistan 2023. It's the perfect resource for ensuring a balanced and well-planned schedule throughout the year. If you get useful information from this content, do not forget to share the information with others regarding Public Holidays 2023 in Pakistan also keep visiting this portal in the future for the latest updates and notifications.