Lahore Board is the educational board conducting the annual exam for SSC and HSSC examination. On the arrival of the examination, most students seek the Lahore Board English Paper 10th Class Past Subjective and Objective Questions which are commonly asked in the paper. We have updated collections of Lahore Board 10 Class English papers from the previous years.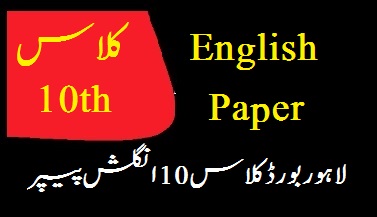 The following Lahore Board English Paper 10th Class obtained from 5 to 10 years annual, supply and composite examination held by the Board of Intermediate and Secondary Education Lahore. The question paper pattern will assist for both medium Urdu and English.
Free Download Lahore Board English Paper 10th Class
The Old Paper of any subject shows full detail and pattern of asking a question which completely assists the students in preparing for the exam. An old paper from Lahore Board English Paper 10th Class also helps you to crawl the content from the books to seek important questions called guess paper.
Some of the students downloaded the 10-year 10th Class English Paper Lahore Board to prepare the Subjective and Objective Questions. When the exam comes near some of the students find English Old Papers.
Lahore Board English Paper 10th Class English Medium
The paper collection is for the students who have elected English medium to get knowledge and read all their books in the English language. The English Paper Class 10th may not assist those of other board students but some questions have similarities.
Lahore Board English Paper 10th Class Urdu Medium
The following big collections are also for students who are studying in the Urdu language, Urdu medium. For Pakistani being Urdu is the native language, it is better to consider the best interest check the following pattern.
Lahore Board English Paper Pattern
Answer questions from the passage 10 Marks
Translate the sentence from Urdu to English 05 Marks
Write 10 sentences about a topic asked in the paper 05 Marks
Change to the voice of the following given 05 Marks
Write answers to short Question 10 Marks
Translate the paragraph into Urdu from English 08 Marks
Write the summary of Poem 05 Marks
Write an essay of 150 to 200 words on the given topics. 05 Marks
Convert the 5 sentences from direct to indirect 05 marks. 
There are some agencies, and competent authorities who are responsible for preparing the Lahore Board English Paper 10th Class from the syllabus and English books. Search some online websites that provide you with the solved MCQs based on subjective and objective papers for class 10. There is no difference between the English and Urdu mediums if we talk about compulsory subjects like English, Urdu, Pak Study Islamic Study etcetera.