Lahore Electric Supply Company Ltd has announced golden career opportunities for the following holding qualifications and experienced candidates from all over the Punjab province. We got the Lesco ALM Jobs 2023 Online Apply Last Date is 20th October 2023. Download the Advertisement for the Lahore Electric Supply Company Job of Chief Executive Officer from the Newspaper "The Express Newspaper".
The company will start the recruitment procedure through the Open Testing Service web portal where many LESCO job advertisements are announced. The LESCO Jobs application forms will be categorized online and received before the deadline.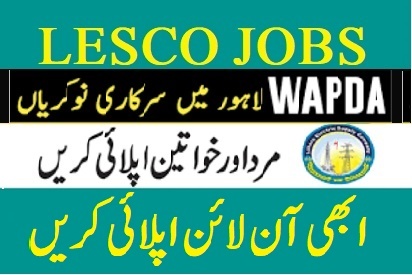 Lahore Electric Supply Company is inviting such type of candidates who are disabled and fit to work should apply online via the NTS website. The applicants from the Lahore division hold the prescribed experience, skills, and qualifications that are preferable.
Be hurry before 20 Oct 2023 to submit the application form for LESCO Jobs 2023 Online Apply at www.nts.org.pk testing agency. Below check the complete details Lesco ALM Jobs 2023 Online Apply Last Date given in this advertisement.
Lesco ALM Jobs 2023 Online Apply Last Date Advertisement Detail
Every testing agency announces the procedure for how to submit the application form.
Few agencies collect the form offline via courier service.
Nowadays most recruitment agencies collect the form online.
The NTS Testing agency now collecting LESCO Jobs 2023 Application forms online and offline.
The fee amount for the registration form and how to fill out the Bank Challan visit the Lesco Jobs Advertisement 2023.
The willing candidates are advised to attach the attested copies of all the educational documents, certificates, and personal documents CNIC, Domicile, and Passport size images with the LESCO Jobs application form.
The most important instruction for the applicants is the recruitment authority will not count or record the form collected by hand or after the Lesco Jobs 2023 Online Apply Last Date is 20-10-2023.
Read this table for brief information about the job description and areas of responsibility and check the time period of the contract for the position of NTS LESCO Jobs 2023 Online Apply ALM Careers.
Lesco ALM Jobs 2023 Online Apply Last Date
Sr.No
LESCO Jobs Designation
Qualification Requires for Lahore Electric Supply Company Jobs Wapda
1
Assistant Manager
(Accounts)
MBA
2
Assistant Manager
(CS)
MSC
3
Junior Store Keeper
B.Sc./B.A
4
Cashier
FA/FSC
5
Data Coder
BA/B Sc.
6
Lab Assistant
Diploma of Associate Engineer in Electrical /Electronic Technology.
7
Senior Clerk
Intermediate
8
Trained Graduate Teacher
(TGT)
BA/B.Sc.
9
Commercial Assistant
10
Senior Store Keeper
B.Sc./B.A
11
Audit Assistant
B.Com
12
Accounts Assistant
Graduation
13
Assistant
14
Steno Grade-I
15
Stock Clerk
F.A/F.Sc. /C.Com
16
Assistant Manager/ Junior Engineer (Electrical)
BSC
17
Telephonist Telephone Complaint Clerk
Matric
18
Sub Station Operator Grade-B
19
Assistant Sub Station Attendant
20
Sub Station Attendant
21
Line Superintendent Grade-I
22
Sub Station Operator Grade-I
23
Line Superintendent Grade-II
24
Electrician-II
25
Tracer
26
Junior Clerk
27
LDC
(Revenue)
28
Helper
29
Store Helper
30
Mali
Middle
31
Naib Qasid
32
Sweeper / Sanitary Worker
Literate
Lesco ALM Jobs 2023 Online Apply Last Date and Eligibility, Qualification
The eligibility and requirements are the basic need of the candidates to apply for Www LESCO gov pk Jobs so if you fall & fit for any prescribed designation jobs. Education MBA, MSc, and master's degree are fit for the post of Assistant Manager CS and Accounts, BA, BSC, B.com qualification is seeking for the recruitment of LESCO Wapda Jobs Lahore for Junior Store Keeper, Audit Assistant, Assistant Manager/ Junior Engineer (Electrical), Accounts Assistant, Chief Executive Officer, Steno Grade-I, Trained Graduate Teacher and Commercial Assistant, etc.
For more information, the willing applicants read the following announced Lesco Wapda Jobs 2023 Lahore. Fresh candidates who wish to get experience in the shape of an internship may also apply for the www.wapda.gov.pk internship LESCO Jobs 2023 Online Apply by testing the agency website before the deadline of 20-10-2023. So do not waste your time applying for NTS LESCO Jobs Online Apply via the Open testing service or the LESCO Official website.
Looking for the latest job opportunities with Lahore Electric Supply Company (LESCO) in 2023? You should visit the right place (The official website) LESCO is now accepting applications for the position of Assistant Line Man (ALM). If you're eager to join the LESCO team, don't miss out on this chance to apply online for Lesco ALM Jobs 2023 Online Apply Last Date written in this Ad.
The Lesco ALM Jobs 2023 last date 20/10/2023 is fast approaching, so make sure you submit your application before the deadline. This is a golden opportunity for both male and female candidates in Lahore who aspire to work with a reputable organization.
To apply for Lesco ALM Jobs 2023 Lahore, visit the official LESCO website and follow the application process. Be sure to provide all required information and documents as per the job requirements. Don't wait until the last minute; apply now to secure your chance at a rewarding career with LESCO.
Stay tuned for updates and notifications related to Lesco ALM Jobs 2023 for Female, and take the first step towards a promising future in the power sector. Don't miss this opportunity – apply today for Lesco ALM Jobs 2023 Online Apply Last Date Oct 20, 2023!
Are you on the lookout for exciting job opportunities in Lahore in 2023? Look no further! Lahore Electric Supply Company (LESCO) is currently offering a range of employment prospects for the year 2023. LESCO is a dynamic organization, and it's an excellent time to explore the various career paths it offers.
Lesco Jobs 2023 Lahore encompasses a diverse array of roles and positions. Whether you have passed the graduate or master's degree there could be a perfect job waiting for you. The application process for these positions is straightforward and can be done online through the official LESCO website, www.lesco.gov.pk Jobs 2023.
To stay updated with the latest LESCO job vacancies, keep an eye on Lesco Jobs 2023 advertisements for 2023. These postings provide detailed information about job descriptions, eligibility criteria, and application deadlines. So, whether you're interested in Lesco Careers or exploring job opportunities in the WAPDA sector, you'll find valuable options in 2023.
Don't miss out on the chance to embark on a rewarding journey with LESCO. Apply for LESCO jobs in Lahore in 2023, and take the first step towards a promising and fulfilling career. The willing candidates may visit the following web portal for Lesco ALM Jobs 2023 Online Apply Last Date after 15 days the LESCO Jobs Advertisement. The following website may also be notified about the electricity bill or any Lesco complaint or suggestion about these Jobs at this link.
Check More Information for LESCO Wapda Jobs in Lahore