The government of the Punjab afternoon school program has a big offer to deliver education opportunities today for children at all primary and high levels. Under this Insaf Afternoon School Program project, the students of primary and Middle Schools will be converter middle and high school levels respectively across Punjab.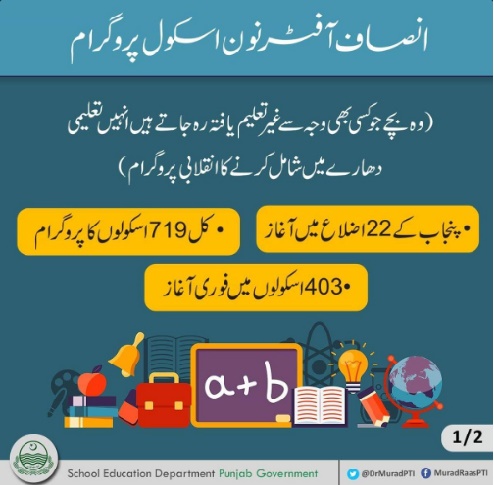 Insaf Afternoon School Program Motto Teachers Salary Package
The great motto of the Insaf Afternoon School Program has been launched by the Punjab Education Sector Reforms Program (PESRP). The Insaf Afternoon School program aims to provide equitable educational opportunities for children in areas where access to schools remains a challenge with low enrollment rates and high dropout rates.
The program is designed to "upgrade" existing elementary or middle schools to the middle school or high school level respectively, allowing students to move to higher grades within the same building. This provides easy access for students and leads to an increase in their retention.
It has resulted in a very cost-effective solution and is currently ongoing in 577 schools across 22 districts in Punjab, where more than 20,000 children have been enrolled so far. Given the promising result, the Punjab government is planning to extend this initiative to the remaining 14 provinces as well.
If you're considering a career in education, the Pmiu Insaf afternoon school program salary package offered in Pakistan offers a unique opportunity. One key aspect that often piques the interest of potential educators is the INSAF school program Teachers Salary 2023 is reasonable including allowances for the year 2023. This aspect is crucial for those who want to plan their finances and future effectively.
To gain a deeper understanding of the program's policies and guidelines, you can easily access the Insaf Afternoon School Policy PDF Format. This document outlines the principles and operational framework of the program, ensuring transparency and clarity for all stakeholders.
For those looking to get involved, applying for the Insaf afternoon school program is a straightforward process. The online application option streamlines the procedure, making it accessible to aspiring teachers and enthusiastic students alike for the Insaf afternoon school Programme Apply online. This digital approach reflects the program's commitment to modernizing and improving education.
Looking ahead to the year 2023, the Insaf afternoon school program has ambitious plans for expansion and enhancement. Staying informed about the latest developments and program details is essential to ensure you don't miss out on valuable opportunities.
If you're searching for a comprehensive list of Insaf Afternoon School Programme available in Pakistan, consider exploring various options in your locality. The Insaf Afternoon School Program in Pakistan is dedicated to widening educational access and improving quality across the nation.
Insaf Afternoon School Programme Application Form Download Online
In conclusion, the PMIU Insaf Afternoon School Program is a transformative initiative aimed at revolutionizing education in Pakistan. Whether you're interested in teacher salaries, program details for 2023, or downloading the Insaf Afternoon School Programme Application Form process, this program is designed to provide equal educational opportunities for all.
Keep a keen eye out for updates and seize the chance to be part of this significant educational transformation. You may also visit the below link https://www.pesrp.edu.pk/pages/insaaf-afternoon-school-program# to get the form and read the Insaf Afternoon School Programme Policy PDF download on your PC.
Are you looking for information about the Insaf Afternoon School Programme and its policies? You've come to the right place. Our platform provides valuable insights into the Insaf Afternoon School, its policies, and how to apply online.
The Insaf Afternoon School is dedicated to enhancing education accessibility and quality. Our comprehensive list of Insaf School List and locations allows you to find the nearest one to you, ensuring convenience for both students and educators.
Click on the official link to understand the Insaf Afternoon School Programme policy that is crucial for all stakeholders. We offer detailed information to help you comprehend the program's principles and operational framework, ensuring transparency and clarity.
To explore opportunities within the Insaf Afternoon School Programme, we provide a simple and user-friendly online application process. Applying online has never been easier, making it accessible for both potential students and educators interested in joining this impactful initiative.
Stay informed and take advantage of the Insaf Afternoon School Programme Apply online via the below web link to get access to avail quality of education and contribute to educational progress in your community.
Insaf Afternoon School Programme Application Form