On this platform, we are sharing the complete Dua Qunoot Tarjuma with Urdu Translation online read in English and Urdu language. On this page also download Dua e Qunoot with Urdu in PDF format (file) download by clicking the below link at the end of this content.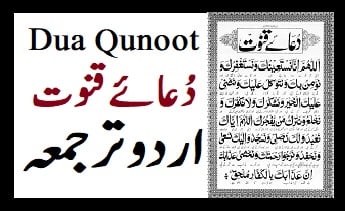 Dua Qunoot Tarjuma with Urdu Translation
In the Night Prayer (Namaz-e-Isha) the Dua e Qunoot is most important and Dua Qunoot is recited in the 3rd Rakat of Witr (Witar) Salaah afterward Isha Prayer(Isha Ki Namaz).
The Dua Qunoot Tarjuma in Urdu should be learned by each Muslim to offer Namaz-e-Isha. It in on very hard to learn but if we read it in Urdu or English Translation then we can learn and Recall it. So read Dua-e-Qunoot Learn (Yad Karana) it here.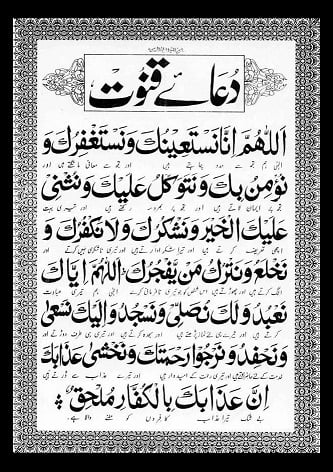 Dua Qunoot Tarjuma to Understand in Arabic
Let us recite the Dua e Qunoot in urdu and Arabic language available in its real form.
Allah humma inna nasta-eenoka
wa nastaghfiruka
wa nu'minu bika
wa natawakkalu alaika
wa nusni alaikal khair,
wa nashkuruka
wala nakfuruka
wa nakhla-oo
wa natruku mai yafjuruka.
Allah humma iyyaka na'budu
wa laka nusalli
wa nasjudu
wa ilaika nas aa
wa nahfizu
wa narju rahma taka
wa nakhshaa azaabaka inna azaabaka bil kuffari mulhikun.
Dua-e-Qunoot Urdu Translation:
"O' Allah! We implore You to help
and beg forgiveness of You
and believe in You
and rely on You and extol You
and we are thankful to You
and are not ungrateful to You
and we alienate and forsake those who disobey You.
O' Allah! You alone do we worship
and for You do we pray and prostrate
and we betake to please You
and present ourselves for the service in Your cause
and we hope for Your mercy
and fear Your chastisement. Undoubtedly,
Your torment is going to overtake infidels" O Allah!
Dua E Qunoot Urdu Tarjuma
See below the JPEG file am sharing with you with the introduction of Dua Qunoot Tarjuma in Urdu Translation. It is the complete translation of Dua-e-Qunoot in the Urdu language considerable for Pakistanis.
This image of Dua e Qunoot Urdu is for Urdu language consideration who do not know the meaning of Arabic language they need to translate this Dua into their native language like in Urdu, English, Hindi, Pashto, or Punjabi.
Are you seeking the translation of Dua e Qunoot with Tarjuma? See the below image tells you the complete meaning of the whole Dua. This dua should be recited in every prayer by every person he is Muslim or not.
If you wish to listen to the Dua e Qunoot with Urdu translation MP3 free download from the Youtube social media search engine. We will provide the complete audio file of this Dua in the future Inshallah.
The Muslims should also learn how to recite the dua in the Rain, dua for sleep, dua for Azaan, and dua for traveling. Check these links to see the full content and data about.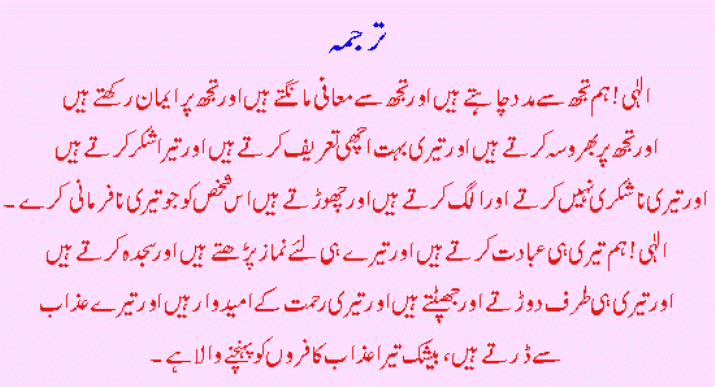 Pray for Me if you like the Post. Dua Qunoot Tarjuma with Urdu Translation and English learn how to recite. So finally click on this link to get a PDF file of Dua Qunoot with Urdu translation. 
Urdu Dua Qunoot Download in PDF